Product Category: Computers & Networking->Computer Accessories
Manufacturer: iGO
Model: Green Laptop Charger
Item Color: As Shown in the Stock Photo
Original Box: YES


Product Description: Charge almost any laptop from this power saving wall charger. Integrated iGo Green Technology automatically reduces wasted standby power – no need to unplug the charger.iGo's Green technology limits the amount of standby power wasted – by virtually detecting when a device is pulling power. When the device no longer needs power, iGo green adapters automatically shut off – reducing the amount of electricity waste. There is no need to remember to unplug the adapter to save energy, this power adapter does the thinking and energy saving for you. What is standby Power? Standby power, also called vampire power, vampire draw, phantom load, or leaking electricity, refers to the electric power consumed by electronic appliances while they are switched off or in a standby mode. A very common "electricity vampire" is a power adapter which has no power-off switch. In study's performed by the Lawrence Berkeley National Laboratory indicated that Standby power consumption accounts for approximately 10% of total residential electricity consumption in America, adding up to more than 3 Billion Dollars in annual energy costs. Some such devices offer remote controls and digital clock features to the user, while other devices, such as power adapters for laptop computers and other electronic devices, consume power without offering any energy saving features. Until NOW!!!! With iGo's Green technology products, you can save the standby power wasted – automatically! No need to remember to unplug your laptop, iGo does the GREEN thinking for you!

Please scroll down for more item details. If you still need more item specific information, click here or contact us for other general questions.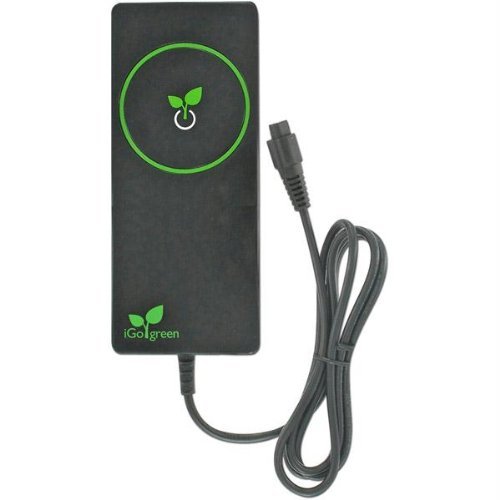 (Stock photo above, actual item might have a different color)